FGC Gathering 2005: The Experience of a clerking young Friend - FRIDAY, Eyes Wide Open
Ahh, and finally, Friends, we have come to Friday, the final full day of Gathering - and a full day it was!
After workshop I actually had until 3:30 to do what I wanted! After spending over an hour at lunch, talking to many fFriends (I tended to eat at one table with the Friends there, then move on to a different table to converse with other Friends, then get up and find more.. etc.), I went with a friend off to see the Eyes Wide Open exhibit that was set up on campus for Gathering (and anyone else, too, really) (see http://www.afsc.org/eyes/default.htm).
Eyes Wide Open is an exhibit of thousands of soldiers' boots, equal to the number of US casualties from the Iraq War, and then also civilian shoes, representing thousands of Iraqi civilian casualties. Many families have sent letters and articles and other things from or regarding their family member who was killed - these are displayed along with the boots representing that soldier. Every pair of boots has a tag including the name, home state, and age of the soldier they represent, and the boots are arranged by state.
I went to see this exhibit very aware of my exhaustion (and that I should have probably been taking a nap instead), but also very aware that this would be my only opportunity to see it.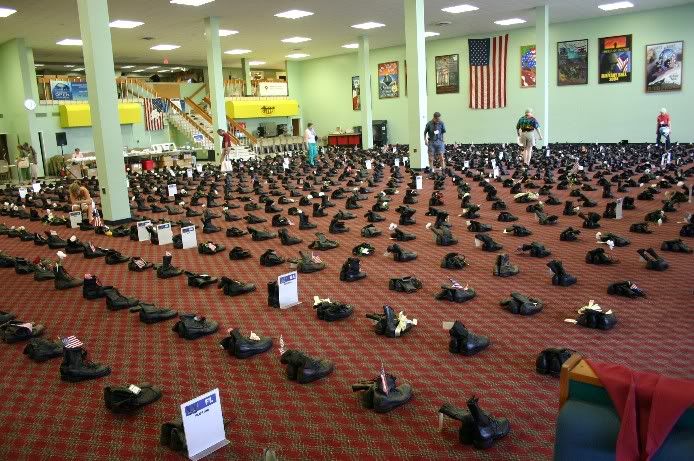 As I walked into the very large room where the exhibit was set up and saw the thousands of boots lined up, I tried to let it sink in. Mentally, I felt numb. "Every single one of these boots represents a unique, loving individual, who had a loving family, and who was lost prematurely in prolonged actions of hate and misunderstanding," I thought to myself, in an effort to convey to myself the gravity of what I was looking at. I continued thinking like this as I walked by the civilian shoes and pictures of Iraqi people - both civilian and military. My body began to wear down, but mentally, my natural defense mechanism of non-reaction seemed to be prevailing, which did not feel right to me. This was a week of opening and deep feeling! I was not happy with this numbness.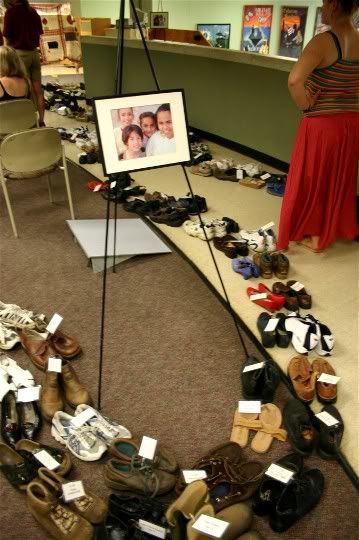 At some point I thought of my step-brother. He has a wife doing a residency in OB/GYN and a 5 year old son. My step-brother went to Iraq a year ago (edit: he's in the Marine Reserves), and on the morning of New Year's Day this year, was wounded and lost his right arm, just below the elbow. I tend to view it more as if we got to keep the rest of him, rather than a loss of his arm. I tried to imagine what it would be like if one of these boots represented my step-brother. I couldn't.
I sat down in the middle of the exhibit and leaned against a square column (part of the structure of the building) and just sat in silent worship (with attention to the exhibit and what it meant). While my mind was failing at evoking a reaction mentally, I began to feel some physiological effects of strong emotion. I could feel my grief and despair through my body and in my bones, rather than a mentally. Had I stayed long enough, I'd be surprised if I didn't begin shaking a little, yet my mind was still elsewhere. My mind so often feels desensitized, but my emotions clearly were (and are) not. It was a strange and uncomfortable detachment of my mind and emotions. I don't quite know how to explain it.
After a time, I left. For a portion of the walk back to the dorm I was walking with fFriends, but we didn't really talk about the exhibit. I was exhausted (as per usual for this year's Gathering), but it was time to head off to support groups.
[Both images credited to Peter Lyrene.]
Friends, I'm going to break up Friday's post into two posts. I am tired right now, and don't quite feel up to writing about the rest of Friday tonight. Also, I feel that this experience at the exhibit and my experience with Nominating Committee each need seperate posts, eventhough I hate to drag this out longer than it already has. Those of you who have read all of this up until now and continue to stick with it, I thank you greatly, Friends.
More soon..
Love and Light,
Claire